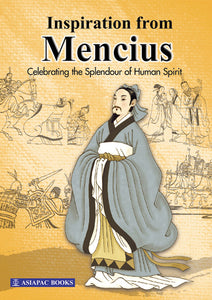 Asiapac Books
Inspiration from Mencius
Regular price
$12.00
$0.00
Synopsis
Mencius is an ancient philosopher with a modern spirit. He is regarded as the Second Sage after Confucius.Even though Mencius's thinking is more than 2,000 years old, it is still relevant today. Chinese-American Nobel laureate of physics Yang Zhenning has said that Mencius' philosophy, which he learnt to recite during middle school, is one of the biggest influences in his life.

Some of Mencius' core thinking:

- Man's innate goodness: man was originally equipped with goodness, all men have the capacity to do great things and attain wisdom.

- Benevolent governance: Mencius stressed the importance of a benevolent government, insisting that the government existed for the people, and not vice versa.

- A strong and unrelenting spirit: a true man would never give up in the pursuit of a lofty goal, even if he is living in comfort and luxury, is facing hardships, or is under threat from violence and power.

This fully illustrated book introduces the life of Mencius and divides his core thinking into eight sections to let the readers have a better grasp of Mencius' philosophy. 
Written / Compiled by Asiapac Editorial
Illustrated by Fu Chunjiang
ISBN: 9789812296665
Format: Paperback
Size: 150 x 210mm
Pages: 153
Weight: 220g
---
More from this collection