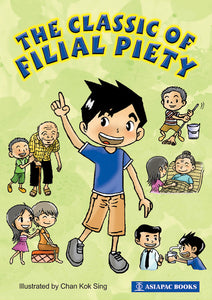 Asiapac Books
The Classic of Filial Piety
Regular price
$8.00
$0.00
Synopsis
The Xiao Jing or The Classic of Filial Piety is a Confucian classic on filial piety. It teaches how one should behave towards a senior such as a parent, elder sibling, or ruler. The text consists of a dialogue between Confucius and his disciple, Zeng Zi, whose students compiled the treatise around 400 BC.

The treatise has been associated with the Confucian school of philosophy which became the ideology of imperial China and neighbouring countries such as Korea, Vietnam and Japan. It is probably the world's only text devoted to filial piety.

Other titles in this series:  The Three Character Classic and The Student's Code of Conduct.

With lively illustrations depicting ancient and modern day contexts, these three books attest to the insights and practicality contained within these classical texts. A heartwarming and lively read that educates on the essentials of all human relationships!


Written by Asiapac Editorial
Illustrated by Chan Kok Seng
ISBN: 9789812296641
Format: Paperback
Size: 150x210mm
Pages: 153
Weight: 200g
---
More from this collection