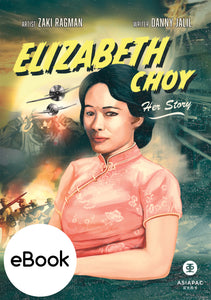 Asiapac Books
Elizabeth Choy: Her Story (eBook)
Regular price
$10.00
$0.00
Synopsis
This is an eBook in PDF format.
On 15 November 1943, the Japanese would approach Elizabeth Choy Su-Moi. 'You are allowed to meet the husband we arrested,' they said. 'You can even bring him a blanket for his prison cell.' 

However, what she thought was an innocent visit would turn into almost 200 days of unimaginable horror and lasting psychological scars.

In this all-new graphic novel adaptation, find out how Elizabeth Choy grew to become the person who would endure such an experience, and into the larger-than-life hero we know today. How did she end up on the tiny island of Singapore, when her childhood home was in the lush forests of North Borneo (now Sabah)?
What was her role in the community before and during the Japanese Occupation? How did she survive her internment at the hands of the Japanese?

Through this book, readers would get a glimpse into the tenacious and compassionate character that was Elizabeth Choy. She was not just a war heroine, but also a respected community leader, beloved teacher and a mother. She was someone that truly deserves to be admired.
Written by Danny Jalil
Illustrated by Zaki Ragman
ISBN: 9789811706950
Format: PDF eBook
Pages: 132
---
More from this collection