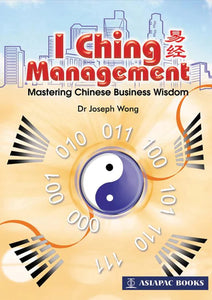 Asiapac Books
I Ching Management - mastering Chinese business wisdom
Regular price
$11.00
$0.00
Click here for the Chinese version
The current economic crunch has called for a new era of change. Perhaps no classic can depict the concept of change better than the ancient Chinese text known as the Yijing, the Book of Changes or the I Ching.
The Chinese character yi really refers to three aspects of change: firstly, the abiding change in nature, as in the progression of birth, growth and death. Then amidst the tumultuous changes in and around us, there is the principle of constant, which is as enduring as the daily sunrise and sunset. Finally, yi also means easy, which is the feeling the enlightened person gets about life when he is able to discern the changing and the constant, hence reducing the complexities of life to simplicity.
Dr Joseph Wong has streamlined the profound Yijing to its basic philosophy, to show business leaders where their enterprise stands in the cycle of development and how it can move ahead even in challenging times. A business consultant, the author has also helped businesses make timely changes and achieve new levels of growth.
ISBN: 9789812295101
Author: Dr Joseph Wong
Pages: 150pp
Format: Paperback
Dimensions: 210mm x 150mm
Weight: 250g
---
More from this collection