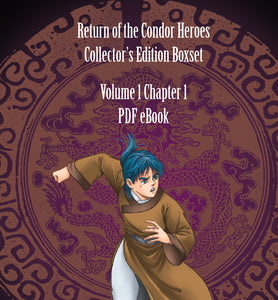 Asiapac Books
Return of the Condor Heroes Collector's Edition Boxset - FREE eBook (Volume 1 Chapter 1)
Regular price
$0.00
$0.00
Synopsis:
This is a free preview of the eBook in PDF format. 
Enjoy a free digital preview of the first chapter of Return of the Condor Heroes Collector's Edition Boxset (English Edition)! This eBook contains the first 43 pages of Volume 1 of the Collector's Edition Boxset, including a cover page, contents pages, and coloured comic pages. 
Return of the Condor Heroes, the comic book series based on Louis Cha's martial arts novel, tells of the love story between Yang Guo and his beautiful master Dragon Girl during the turmoil of the Song Dynasty. Comic artist Wee Tian Beng's breathtaking depictions of the heroes' ill-fated adventures took Asia by storm in the 90's and has since left an indelible legacy in popular culture. 
This award-winning series will be repackaged from 18 volumes into 6 sleek hardcover volumes with NEWLY DESIGNED covers by the original artist, Wee Tian Beng himself.
For the English print boxset, click here
For the Chinese print boxset, click here
For the English PDF eBook, click here
---
More from this collection